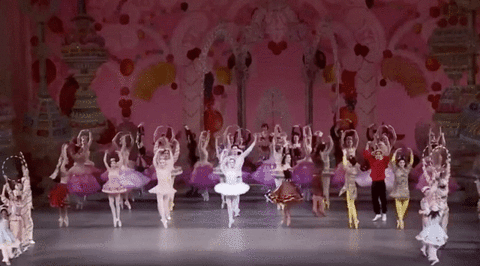 (Via Giphy)
The Nutcracker first came alive through dance over 100 winters ago in St. Petersburg, Russia. Here's what you might not know about Act II of 1892…
1.  The "Waltz of the Flowers" Was Inspired by Another Famous Ballet Waltz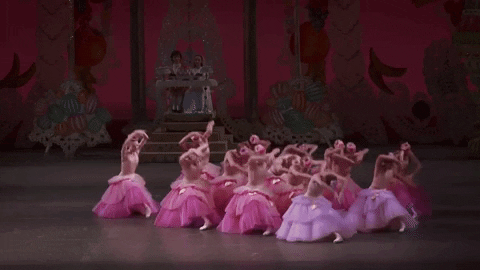 (Via Giphy)

What do Disney's song "Once Upon a Dream" and the "Waltz of the Flowers" have in common?
They share the same source of inspiration!
The Nutcracker's original choreographer, Marius Petipa, wanted the "Waltz of the Flowers" to evoke the scene of the "Village Waltz" (a.k.a. "Garland Waltz") that he created in his collaboration with composer Pyotr Ilyich Tchaikovsky for The Sleeping Beauty two years earlier.
Petipa's original outline for the "Waltz of the Flowers" even called for dancers to carry garlands…
2. The "Trepak" Was Sugar-Free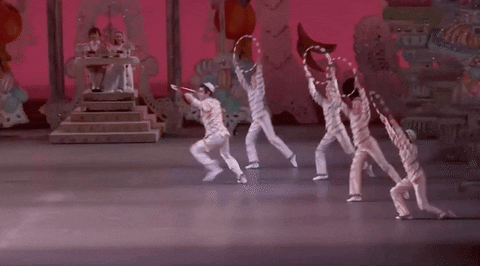 (Via Giphy)
There wasn't a candy cane in sight, nor a Russian character dancer for that matter…
Russian character steps were Petipa's original plan, but when illness forced him to bow out of the production, his assistant, Lev Ivanov, who was put in charge, eventually decided that he didn't care for this idea.
Following the suggestion of an artist, Ivanov changed the "Trepak" into a dance for a jester with a hoop.
Yes, he did indeed send in the clowns…
3. The Sugar Plum Fairy Had Nothing to Do with Plums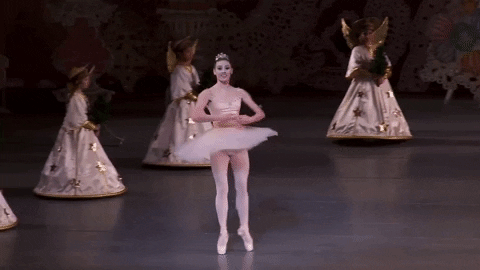 (Via Giphy)

Though she's often gorgeously costumed in visions of purple today, this most beloved fairy in all of ballet was not meant to represent a serving of your daily fruit intake.
Plums preserved in sugar have been around for centuries, but the sugar plums that inspired the Sugar Plum Fairy were once-popular sweets made of sugar coating layered over nut or seed centers.
If that description sounds a little, well, underwhelming—never fear—there's more to the story…
The meaning of "sugar plum" radiates beyond the realm of candy. At the time The Nutcracker first appeared on stage, the term also meant anything lovely and desirable.
So, yes, the Sugar Plum Fairy is truly sugar, spice, and everything nice!
---
Resources:
~Print~
The Life and Ballets of Lev Ivanov: Choreographer of The Nutcracker and Swan Lake, Roland John Wiley, Oxford University Press, 1997.
The Nutcracker Ballet, Jack Anderson, Mayflower Books, 1979
Nutcracker Nation, Jennifer Fisher, Yale University Press, 2003
~Web~
Alexander Shiriaev: The Hidden Genius of Ballet and Film, Wendy Perron, Dance Magazine online, Dec. 23, 2011
What Are Sugar Plums Anyway?, Rebecca Rupp, National Geographic, December 23, 2014